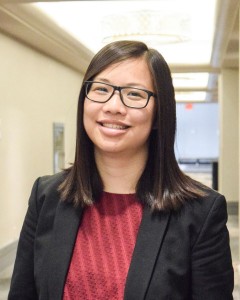 Ryan Soderberg, General Manager, Sheraton Toronto Airport Hotel and Conference Centre, is pleased to announce the appointment of Adrienne Tam to the position of Director, Human Resources (Contract) effective September 10, 2018.
Adrienne joins the team from her most recent position as Human Resources Manager at the Sheraton Vancouver Airport Hotel and was promoted from HR Coordinator in March 2018. She first joined the company in May 2012 and then transferred to Human Resources in June 2014 to fulfill a contract for a year before becoming permanent in November 2015. During her time in Richmond in August 2015, Adrienne lent her expertise in Human Resources by working at the Vancouver Airport Marriott while covering three months during the search for a permanent Human Resources Manager.
In her most recent role, Adrienne has been considered a valued resource to the associates and leaders. Her interpersonal skills and strategic thinking is shown through her active involvement in AES action planning meetings, recruiting, co-chairing the Health and Safety committee and supporting the Regional Director of HR in union matters. Additionally, Adrienne has played a key driving role in the training and compliance during the integration of Starwood and Marriott brands. We are excited to see Adrienne grow further with us in her career by taking on this new role.
Adrienne holds a Bachelor of Arts Degree in Psychology and a Human Resources Certificate from Simon Fraser University. She is currently a candidate for her Certified Professional in Human Resources designation (CPHR).