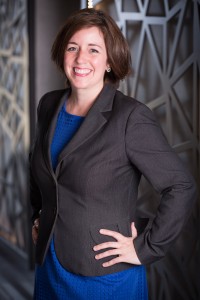 Anup Israni, General Manager, Toronto Marriott Bloor Yorkville is pleased to announce the appointment of Andrea Sutherland to the position of Director, Human Resources (Contract) effective February 20, 2018.
Andrea moves into her new role after working as a Human Resources Generalist since June 2014 at Toronto Marriott Bloor Yorkville. Andrea brings with her some operational experience that she obtained when she first joined the company in February 2007. This includes her working as a Night Manager at Renaissance Toronto Downtown Hotel until December 2008. She then left the company and worked as an Online English Tutor with Cooline Online English School from January 2009 to February 2010. In January 2010, she rejoined the company at the Renaissance as a Front Desk Duty Manager and held that position until November 2012 before transferring to Human Resources as a Coordinator. Additionally, Andrea worked as an HR Coordinator with Dyson from February 2014 until June 2014 before returning back with the company as HR Coordinator at Toronto Marriott Bloor Yorkville.
While at Toronto Marriott Bloor Yorkville, Andrea has been integral to the hotel's success in achieving the highest Associate Engagement score within the company and surpassing all Best Employer Benchmarks with AON Hewitt. She remains an advocate for the hotel's community involvement, learning and development for associates and Health & Safety, helping the hotel earn the HR Excellence Award with the Hotel Association of Canada. We are very excited to see Andrea continue to make a significant contribution while in her new role as Director of Human Resources.
Andrea holds a Certificate in Human Resources from George Brown College and is a Certified Human Resources Professional (CHRP). She holds a Bachelor's Degree in German Language and Literature and a Bachelor of Arts in Theatre from Acadia University.